Efforts to supply clean & safe water for sanitation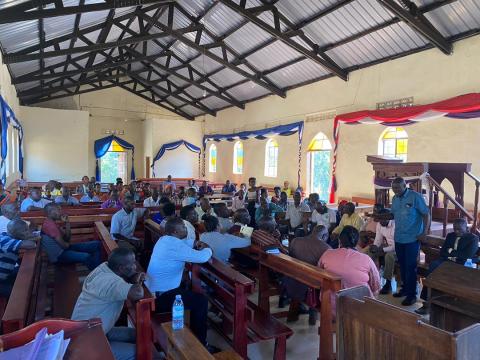 The District leadership in conjunction with the South-Western Umbrella of Water and Sanitation has held a consultative meeting to discuss the Nyabikungu water flow scheme for the community benefit.
The meeting took place at St. John's Church Nyabikungu where community members turned up to show interest & express their need for the Nyabikungu water scheme.

Tusasire  Naboth- LC1 Chairperson appreciated the district leadership for taking the discussion to the direct beneficiaries &, community members for turning up in large numbers and requested them to attentively participate in everything as a way of owning the project for sustainability.
Francis Constitution, chairman Water Nyabikungu scheme highlighted the background of Nyabikungu water which has three sources - Butahe, Kasyoro, and Kaboyo that supply water to the Nyabikungu community.
He urged the Political and Civil wing to be on the same page for better service delivery.

Enid Kukunda- Umbrella sociologist, informed members that in 2018 the Government through the Ministry of Water appointed Umbrella to take care of some of the water projects in the South-Western region in which Nyabikungu is inclusive &  gave the  Umbrella a direct mandate to take care of the system and the gazetted water supplies with
a goal of having sustainable use of clean & safe water in Uganda.

Jane Muhindo- RDC assured the Nyabikungu community of peace and security.
She is hopeful that by the end of the meeting, they will go with one voice because that is how the government works.
She thanked the government for its efforts to supply people with clean & safe water.